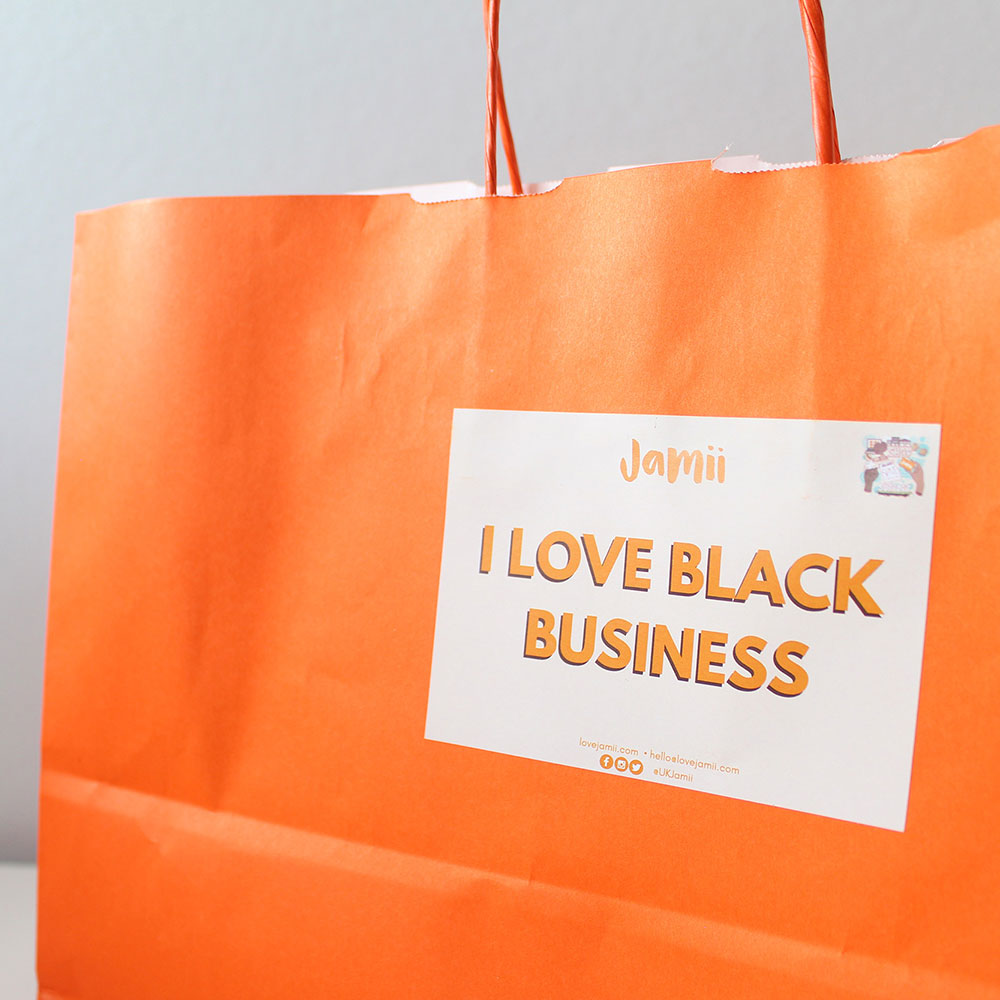 What I Bought From the Jamii Pop-Up Shop
Find out what I bought from the first Jamii pop-up shop…
Last week Jamii took over a spot at  BOXPARK Shoreditch for their first pop-up in conjunction with Appear Here to showcase 20 Black British brands. See my previous post all about Jamii and the pop up shop.
Jamii is the first discount card for Black British businesses, it is also a discovery platform, making it easier for shoppers to find some of the best independent black-owned businesses in the UK. Jamii's mission is to make shopping at black-owned brands as seamless and instinctive as any other retailer and to share with the world the amazing talent that exists within the black community. They signpost shoppers to a wide range of products, including fashion, hair & skin products, food and artwork. The BOXPARK pop-up shop was another step to help them achieve the goal of bringing more Black British brands to the UK high street.
VISITING THE JAMII POP UP SHOP
I was so excited to be one of the brands that had the opportunity to be involved with Jamii's first ever pop up shop, so I couldn't wait to get down to BOXPARK Shoreditch to visit the store. When I arrived to the store on Friday afternoon I was greeted by the Jamii founder Khalia and her sister, operations manager, Courtney. They both did such an a great job bringing Jamii to life in a physical store. One wall was painted their signature Jamii orange with the 'shop, save, support' artwork up on the wall. They had information about key moments of Black British history displayed on the wall including the Windrush Scandal (read more about the Windrush Generation in my previous post).
It was so amazing to see the Tihara Smith products on the shelves beside other brilliant black-owned brands ranging from skincare, clothing, homeware, haircare and stationery. Other brands that were displayed at the pop up shop included Afrocenchix, Bespoke Binny, Kiya Cosmetics, BB Naturals & so many more! Make sure you check out Jamii's Instagram page for the full list of brands that were at the pop up shop.

What I bought from the Jamii Pop Up Shop!
Of course, I couldn't go down to a Jamii pop up shop and not do some shopping! So I thought it would only be right for me to share with you all what I purchased with my Jamii card!

Satin Lined Bobble Hat from Black Sunrise
I've had my eye on these hats for a while after discovering Black Sunrise last year. Lined with smooth satin, it's the perfect winter hat for those with afro & curly hair types, keeping you warm whilst protecting your hair from dryness, keeping your hair smoother and static free. I have to admit it was strange buying a winter hat on one of the hottest days of the year! But I can't wait to wear my hat this winter. Black Sunrise also sell caps and visors which are perfect for the summer months, check their full range out on their website.
Clean Greens - Superfood Serum Facial Oil from The Glowcery
I picked up this nutrient-rich facial oil from The Glowcery that is made from 100% natural ingredients and is high in green antioxidants. I love the concept behind this skincare brand, creating nutritious products for the skin using 100% natural, fresh and superfood ingredients - ingredients you'd typically find in your fridge or greengrocers. The Glowcery also make a natural lip scrub and lip balm that I'm excited to try in the future! The full product range is available on their website.
St Lucia Flag Pendant from Isura
I just had to pick up this gold pendant from Isura in the shape of the island of St Lucia, engraved with the St Lucian flag. It's not often that I see products featuring St Lucia, so I was really excited to buy this necklace! Isura sell a beautiful range of jewellery in the shape of different African, Caribbean & South American countries including Nigeria, Ghana, Senegal, Barbados, Dominica and so many more. You can see the full range on the website. I'm looking forward to picking up the Jamaican pendant soon to represent the other part of my Caribbean heritage!
Milk Leave In Moisturiser from Big Hair + Beauty
Having found the brand Big Hair + Beauty on Instagram a few weeks ago, I was excited to pick up one of their products to try on my own hair. Big Hair + Beauty create natural haircare products made from the best handpicked ingredients specifically for afro and curly hair. They have products for every step of your haircare routine, and you can see the full range on their website.

Liven Up Body Wash from Earth to Earth Organics
I also picked up this all natural citrus body wash from Earth to Earth Organics. I had the opportunity to try the body butter from Earth to Earth Organics last year when I received a Jamii Gift Box for Christmas and loved it, so I couldn't wait to try more of the products from the brand. All their products are handmade by husband and wife team Danny and Tenesia Pascal using all natural ingredients. Read their full story on the website.
Yout/Pickney Dem Card from Streetgreets
Finally, I had to pick up this amazing card from Streetgreets - I love it! Streetgreets was founded by sisters Siobhan and Naomi from London after spotting a gap in the greetings card market. They create cards that celebrate Black-British culture. You can find their full range of cards on their website for all different types of celebrations and occasions.
If you have seen a few things on this list that you'd like to try for yourself, make sure you head over to Jamii to pick up a Jamii Card to get up to 40% off Black British brands! As Tihara Smith is a Jamii partner, Jamii cardholders get 10% off everything from the shop including stationery, pins, wall hangings and art prints.