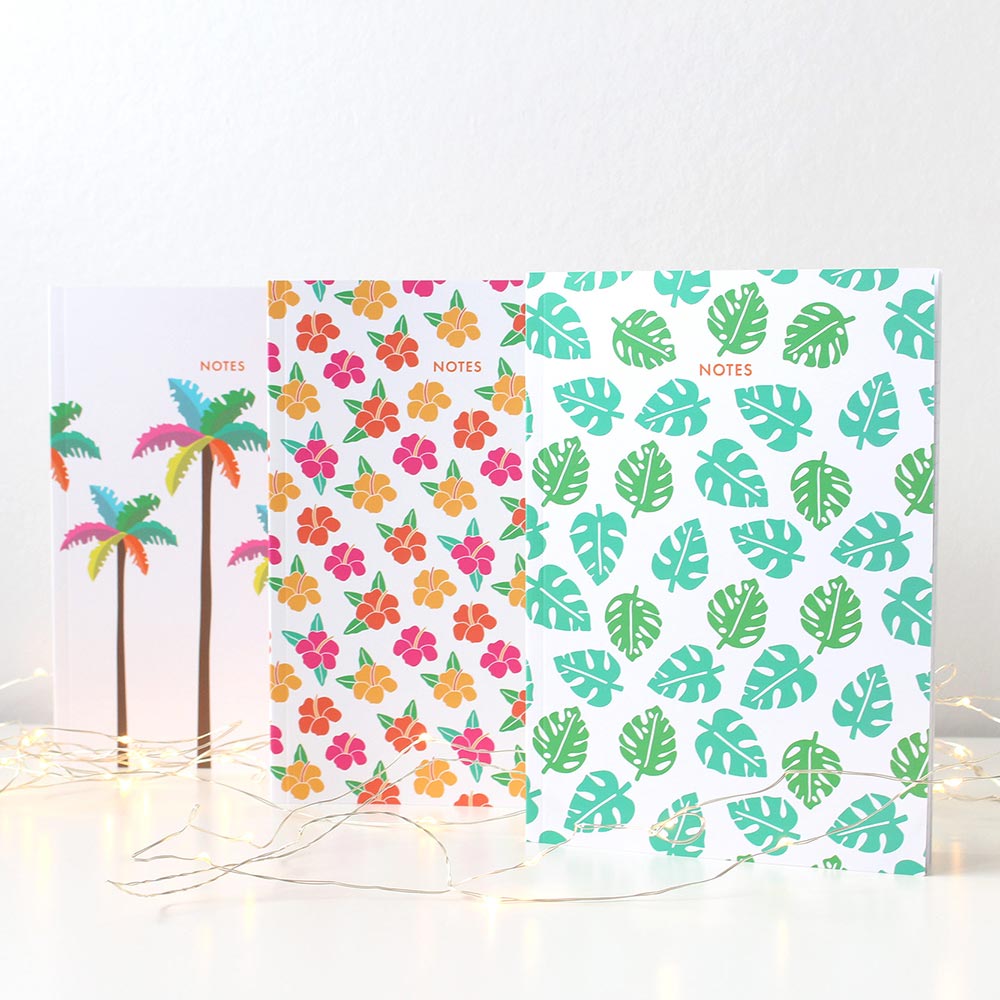 Creative Uses for Your Notebook
To celebrate the launch of three new notebooks, here are some creative uses for your lined notebook…
This week three new A5 notebooks have launched in the shop! The hibiscus and monstera notebook has been really popular over the past few months, so I thought it would be great to introduce some new tropical print options for all stationery lovers. Added to the collection is a monstera leaf notebook, hibiscus flower notebook and colourful palm tree notebook, so something for everyone ✨. You can also choose from all the A5 notebook designs when building a tropical gift set for a friend or loved one. These notebooks are also filled with 100% recycled lined paper, so when you buy a notebook you are giving some paper a second, third or fourth life. You can read about some of the benefits of using recycled paper in my previous post.
I've been listening to your feedback and comments on social media, so that's why I've released these new designs of my original A5 notebook. However, I am still working on designing and creating more bright, colourful and useful stationery for you all! I know everyone has a different preference when it comes to notebooks and organisaton, and I really appreciate hearing all your feedback so if you have anything you want to share with me about your favourite stationery, be sure to DM me on Instagram.
In celebration of these new notebooks launching, I've put together a list of creative uses for your lined notebook! A blank lined notebook is full of possibilities, perfect to fill with all your plans, dreams and ideas. See below for a list of ideas to fill your notebooks with.
#1 - JOURNALING
Lined notebooks are perfect for journaling. A journal is a written record of your thoughts, experiences, emotions and feelings. There aren't any rules for journaling, but it is usually a daily or weekly ritual that people often add to their self-care routine. Journaling is thought to have loads of health benefits from reducing stress, managing anxiety and tracking your emotions.
Besides the health benefits of journaling, you can also use it to keep a record of your life at different stages. Just imagine in ten years time being able to look back at what you are up to now!
It can be hard to get started with jornaling, but the best way to get started is to just begin writing. If you're really stuck, there are plenty of journaling prompts on the internet. A quick Google search will bring up pages of journaling prompts to get you started.
#2 - MAKING LISTS
I happen to be a big fan of making lists! Daily and weekly to-do lists can help you keep track of everything that is swimming around in your mind and keep you focused on the tasks that you need to complete in a certain time frame. There's a lot of advice out there around how to write effective to-do lists, one of the main pieces of advice that sticks out to me is to keep them realistic and concise. Have a limit on the number of tasks you will complete each day to keep it doable.
There are also other lists you can keep in your notebook. How about listing book, film, television or podcast recommendations? You may also want to list local restuarants, attractions and events that you would like to visit. And for those who love to travel, keep a list of the cities or countries that you'd love to visit one day. The list possibilities are endless!
#3 - KEEPING NOTES
Another great use for your notebook is writing down all your notes and comments. If you are a student at school or university, you can keep notes for each of your classes and projects in a separate notebook to keep organised which can help with revision when it comes to exam season. If you're invited to lots of meetings as part of your job, you can use your notebook to keep meeting notes, titling each page with the date and subject of the meeting to record everything that was said.
Even if you're not traditionally studying in a school or university, you can still use your notebook to keep track of your learning. If your teaching yourself a new skill using YouTube videos, or taking part of an online course, you can use your notebook to take down important notes. There are so many free webinars coming our way at the minute, so why not make the most of them and keep notes while you're listening to the speakers. I also love to keep notes whilst reading a great book, there might be quotes or tips that you want to come back to easily - keep these all in your notebook!
#4 - HABIT TRACKING
When you're trying to add new and positive habits to your routine it can be difficult. Keeping a track of them in a notebook can really help. Use the lined paper as a guide to create your own customised template to keep track of new habits such as drinking more water, exercising, going for a walk or getting to bed on time.
#5 - DOODLING
It's also nice to have a notebook for everything in between! From doodling and sketching ideas that come into your mind, and noting down random ideas, to-dos and questions to come back to later. Keep your notebook with you wherever you go, in your bag, backpack or on your desk - ready for when inspiration strikes.
#6 - PLANNING
Notebooks are also the perfect place to keep your plans for various projects you may be working on. Keep a different notebook for each project to stay organised. From planning a wedding, birthday party or social event to starting a business, blog or side hustle. You can use your notebook to keep everything related to this project in one place including notes, lists, important dates and mind maps.
Overall there are plenty of uses for your notebooks, so there are no excuses for leaving your notebooks empty! My favourite way to use my notebook is keeping notes and to-do lists for new products and blogging ideas, it helps keep everything oragnised and allows me plan my days efficiently. I love seeing and hearing about how you use your notebooks, so please share how you use your notebook on Instagram with me.
Sources & Further Reading:
Why Keeping a Daily Journal Could Change Your Life. Read more.
Doodling: the benefits of unlocking your unconscious creativity. Read more.
22 Thought-Provoking Journal Prompts. Read more.
What a to-do! How to write the perfect list. Read more
YOU MIGHT LIKE