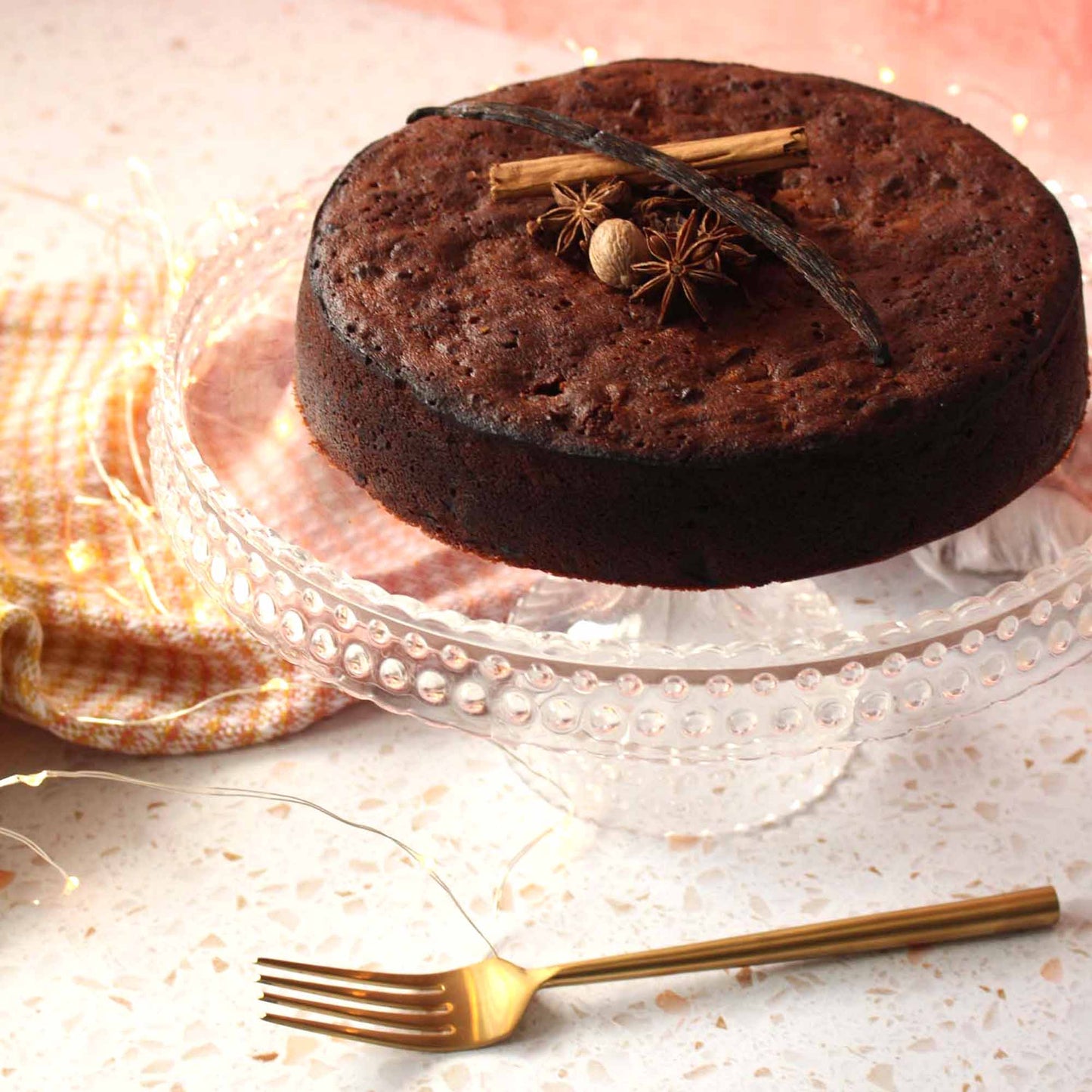 Caribbean Rum Cake Recipe
Recipe for a Caribbean Christmas cake with rum-soaked fruits...
A delicious recipe for a Caribbean Christmas cake filled with juicy rum-soaked fruits and quintessentially Caribbean spices. Also known on some islands as black cake or fruit cake, this rum-infused cake is always a part of my Caribbean family's Christmas! Every family has their own special recipe for this cake which is often secretly guarded. Made with dried fruit that is soaked in white rum and Red Label wine, this cake is delicious but not suitable for children! The dried fruit is usually soaked for up to a year in advance, but if you are pressed for time you can soak them overnight or for as long as you are able to.
My experience of making a Caribbean rum cake
I'm so grateful for the opportunity I have had over the years creating my graduate collection and starting this brand to learn more about my Caribbean heritage and Caribbean food. The pictures featured in this post is from one of the first times that I made this cake by myself, so I am by no means an expert! This recipe is not my family recipe (that is a close guarded secret - even from me 😉), but is inspired by plenty of research into different recipes I've found on the internet and cookbooks plus a few tips from family members. If you want to try looking into different recipes for this cake, why not try the Original Flava cookbook, this video from Island Girl Recipes or you can look up dozens of recipe videos on YouTube.
What type of rum can you use for a Caribbean rum cake?
This recipe uses white rum and Red Label wine to soak the dried fruits, but you can use any type of rum or alcohol that you prefer to make your Caribbean rum cake. Some other suggestions include dark rum, sherry or brandy. This Caribbean fruit cake is known for its pudding-like texture and rich dark colour which comes from the dried fruits but also a browning. Browning is a type of natural food colouring that is used in Caribbean cooking to colour food dark brown. It is also used when cooking different meat dishes. You can buy browning already made in a bottle from some supermarkets and Afro-Caribbean supermarkets, but you can also make your own by essentially charring brown sugar. In this recipe, I used molasses instead to get the darker colour.
Here is a recipe for Caribbean Rum Cake:
INGREDIENTS
500g mixed dried fruits
100ml white rum
100ml Red Label wine
2 tbsp molasses
1 tsp baking powder
250g butter (softened)
225g plain flour
200g soft dark brown sugar
5 eggs
0.5 tsp ground allspice
0.5 tsp ground cinnamon
0.5 tsp grated nutmeg
0.5 tsp salt
0.5 tsp lemon juice
1 tsp vanilla extract
STEPS
Step 1 - Put the mixed dried fruits into a glass jar and pour over around 50ml of white rum and 50ml of the wine - use enough alcohol to cover the fruit, so use more if needed. Leave your fruit to soak for at least 24 hours, but leave it for longer if you can.
Step 2 - When you are ready to bake the cake, preheat the oven to gas mark 4. Grease and line a round loose-bottom cake tin with butter and baking paper. I used a 20cm cake tin, but you can use a slightly larger one.
Step 3 - To make a browning, place the molasses plus 1 tbsp of white rum and 1 tbsp of wine in a saucepan. Bring to a boil, and keep stirring until the mixture thickens slightly - just a few minutes will do. Place this saucepan to the side to cool.
Step 4 - Pour the soaked fruits into a food processor or blender and blend to the desired consistency. If you prefer larger pieces of fruit in your cake you can blend for a shorter amount of time, or you can omit this step.
Step 5 - Using a large bowl, whisk the butter and sugar together with an electric whisk until the mixture is creamy.
Step 6 - Add in the eggs one by one, whisking after each one.
Step 7 - In a separate bowl, mix the dry ingredients - flour, baking powder, allspice, cinnamon, nutmeg and salt. Then sift this into the large bowl with the wet ingredients and stir to combine.
Step 8 - Pour in your soaked fruit, with all liquid, into the bowl along with lemon juice, vanilla extract and browning. Carefully stir together until all incorporated.
Step 9 - Pour your mixture into the cake tin, ensuring it only comes up to halfway. If you have extra batter, you can use it to make another smaller cake.
Step 10 - Put the cake in to bake for around 1 hour 20 minutes, or until a skewer inserted into the middle comes out dry to indicate it's cooked through.
Step 11 - Once you take the cake out of the oven, pour on some extra alcohol whilst it's still hot. Allow to cool, and then enjoy!
DECORATING
If this Caribbean rum cake is going to the centrepiece for your Christmas desert, you can decorate it with some dried fruit including cherries or dried orange slices - or you can adorn it with some spices like cinnamon sticks, vanilla pods, star anise and nutmeg (but remember to remove these decorations before eating!).
I hope you feel inspired to make a Caribbean rum cake this Christmas, if you do, be sure to snap some pictures and share on Instagram - I'd love to see yours!
Gifts inspired by rum cake