This store requires javascript to be enabled for some features to work correctly.
TIHARA SMITH
WINDRUSH COLLECTION
INSPIRATION | RESEARCH | DESIGN
The starting point for the research for my graduate collection was the arrival of the Empire Windrush to Britain in 1948, which carried Caribbean migrants to the UK. The arrival of the Empire Windrush marked the beginning of the mass migration of Caribbean people to the UK - my Grandad being one of them in 1958.
Listening to my Grandad's personal experiences of arriving in the UK from St Lucia, and looking at family photographs documenting the experiences of my grandparents and older family members were key sources of inspiration for this collection.
I also looked the work of photographers who documented the Black British experience from 1948 onwards, including Neil Kenlock, Raphael Albert and Colin Jones. This gave me insight into the fashion worn at the time, and inspired the styling of the collection. 
My research also explored the Black British domestic experience, focusing on the West Indian Front Room. I looked at significant objects, ornaments and souvenirs people used to decorate their living space like straw craft souvenirs, vinyl table cloths and crocheted doilies. This was considered whilst contrasting it to what the Windursh Generation had left behind; the Caribbean home, tropical climate, and the diverse natural beauty of the Caribbean. 
Castries Craft Market, St Lucia
Examples of Caribbean souvenirs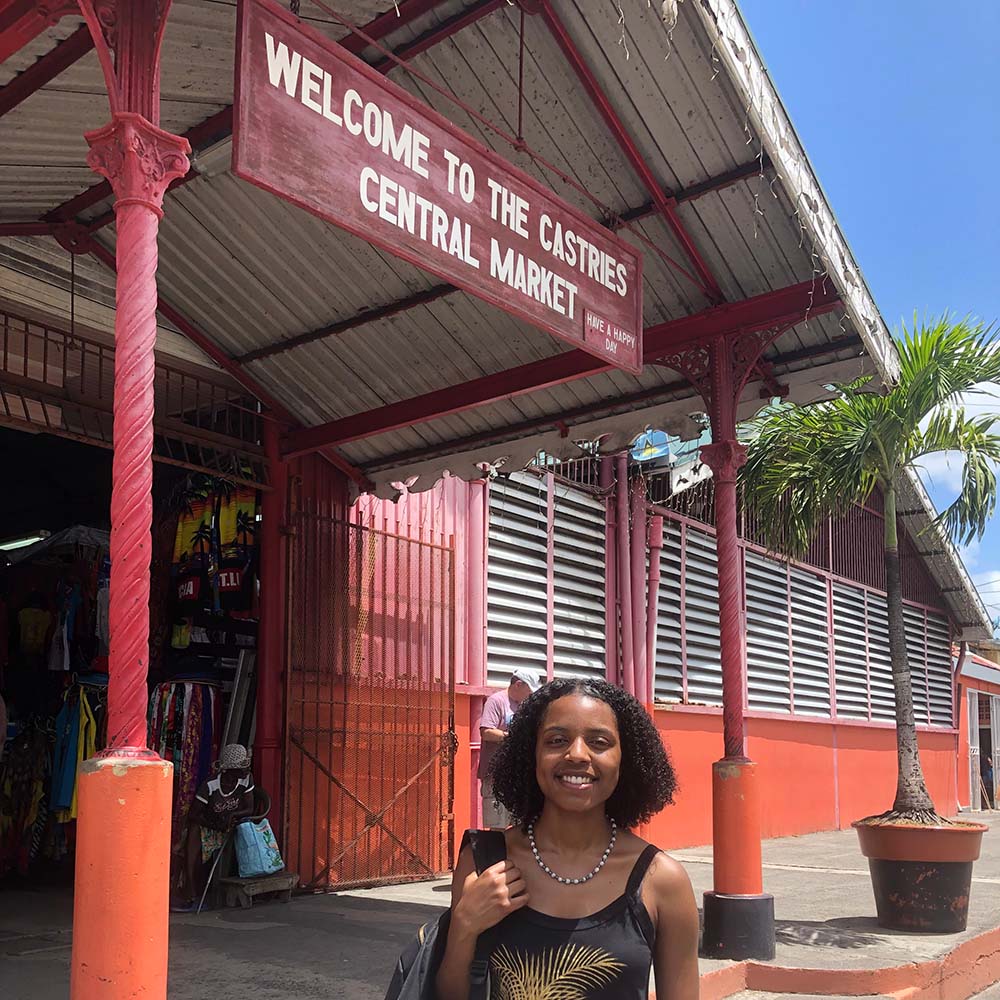 Tihara at Castries Craft Market
Just like the 'West Indian Front Room', this collection pulls together a combination of colours, textures and patterns. Raffia is one of the main materials of the collection, inspired by the woven straw crafts from the Caribbean, often used to make bags and hats. Along with raffia, vinyl tablecloths are mixed with faux furs and knits, taken from the 'West Indian Front Room' decor and the fashions worn by the Windrush Generation seen the the research photography by Neil Kenlock, Raphael Albert and Colin Jones, as well as family photographs. A bright and vibrant colour palette was used taking inspiration from the colours of Caribbean houses, as well as the diverse nature of the Caribbean.
June 2018
Graduate Fashion Week
The Windrush Collection was chosen as one of eighteen graduate collections shown at the UCA Epsom 2018 Graduate Fashion Week show. All six outfits made their way down the catwalk to Bob & Marcia's 'Young Gifted and Black', a celebration of the Windrush Generation and the Caribbean.
Summer 2021
A fashionable Windrush story
In the summer of 2021, an outfit from the Windrush Collection was acquired by The Museum of London along with a suit owned by my late Grandad and oral histories recorded by him, my mum and myself.
Read more
Photoshoot photography by Kayleigh Pace
GFW photography by Deborah Iona