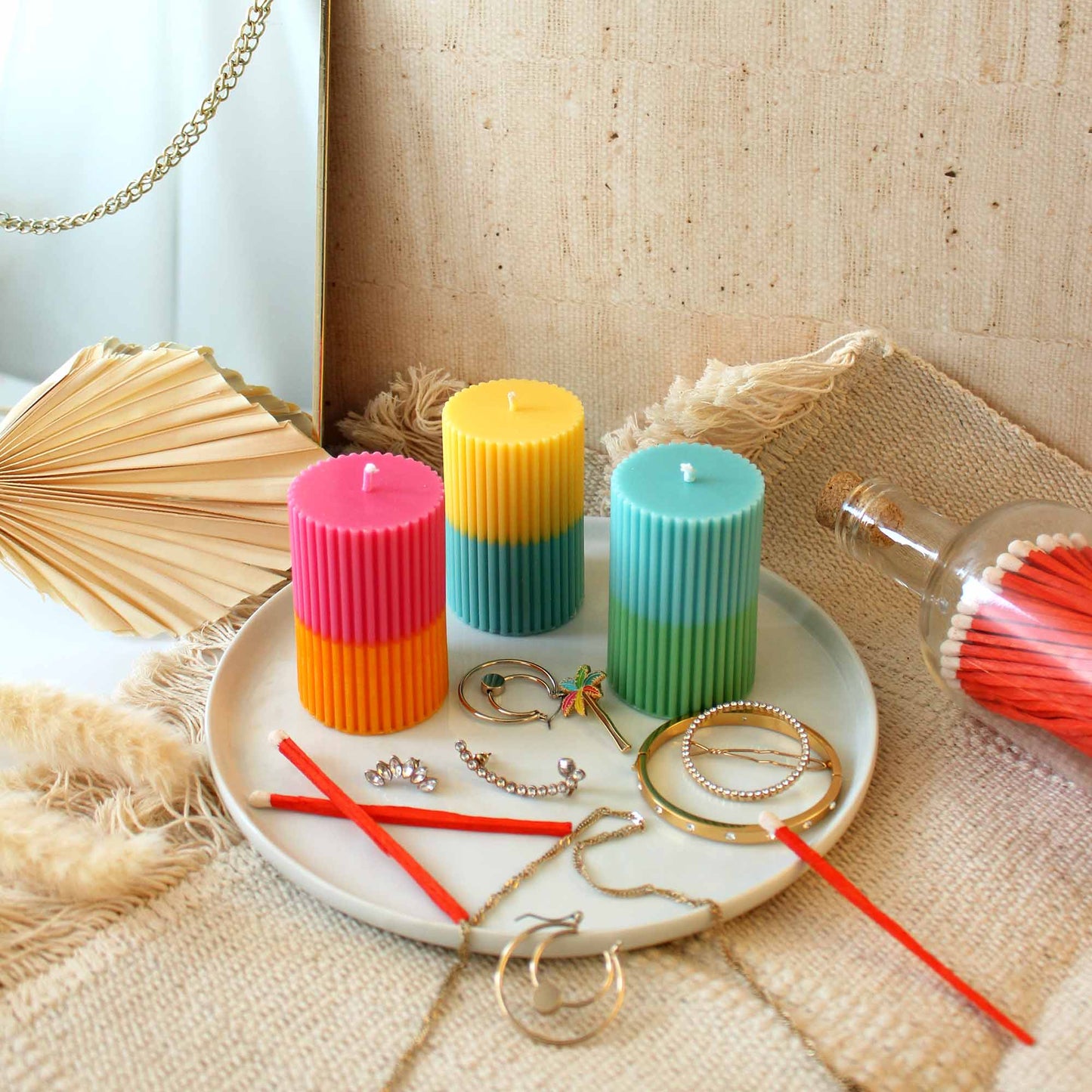 Ideas for Candle Decoration
Inspiration for how to style our candles in your home...
One thing the last few years have taught us is how much we should appreciate our homes and the environment we create for ourselves. Our homes are where we rest, play, socialise and now has become a place that we work too - so it's important to spend some time and energy to make it a space where we can feel relaxed and comfortable.
One way we can do this is through our home decor - choosing wallpaper, paints, furniture and decor accessories that really represent us and sets a particular mood. One home accessory that can really help us do this is candles.
Candles are perfect to add to your home as decoration, especially beautiful statement candles that come in beautiful jars or that are made with colourful natural waxes. When lit, candles also create a little ambience, perfect for an a cosy night in or a self-care pampering session.
When we decided to add candles to our range, there were a few things we were looking for. Firstly, we wanted to make sure that there was clearly a Caribbean inspired and tropical influence to the design. We achieved that through choosing beautifully bright colour combinations inspired by the flowers, plants and nature of the Caribbean. Then we wanted to have our candles made with a soy wax - a cleaner and more natural wax option. Finally, we wanted to try our best to work with another small business make our candles because amazing things happen when small businesses support other small businesses ✨
We were able to achieve all this with our collaboration with candle makers Habit Haus! We've created three beautifully colourful pillar candles to create the perfect candle aesthetic for your home. Each candle was exclusively handmade using soy wax in London by Harri, founder of Habit Haus. Plus all the supplies used to make the candles are locally sourced from UK businesses - even better! Habit Haus creates beautiful unscented candles making them more suitable for most homes as it minimises intolerances and extra toxins in the air.
These candles were designed to be statement candles, to stand out as it's own work of art. Statement candles are great as home decor because they don't need too much else to make them look amazing. These two-tone ribbed pillar candles can really complete the aesthetic you're going for in your home - so much so, many people opt not to burn them!
Candle Decoration
There are so many ways that you can go about displaying and styling your candle decoration in your home, so we put together some ideas to give you some inspiration using all three of our colourful two-tone pillar candles.
The following images include ideas for the shared spaces in your home, including your living areas and dining areas. Plus, ideas for the personal spaces in your home like your desk, bedroom and bathroom.
Bathroom Candle Decoration
If you have a ledge in your bathroom, along with your soaps, lotions and potions, you can add a colourful candle to brighten your day first thing in the morning! You could also add a candle tray to display the candles, this will catch any wax if you choose to light your candles and can also be used to hold your jewellery whilst you're in the shower or bath.
We've also paired our candles with a tropical houseplant to add even more of the Caribbean to our bathroom decor 🏝
Bedroom Candle Decoration
Our bedrooms should be a safe space that we can go to relax and unwind after a busy day. This bedroom decor is very neutral, made up with beiges and creams. We've added a pop of colour with these three two-tone pillar candles which really helps brighten up the dressing table. Again, displaying your candles on a heatproof dish or tray is both aesthetically pleasing and useful as it catches any wax if you choose to burn your candle.
Desk Candle Decoration
Easily brighten up your working area with these pillar candles. Simply place one or two candles on your desk next to your pen pot to add some colour. You could even colour coordinate your candle with your stationery as we've done here with our notepads!
Dining Table Candle Decoration
Impress your guests with a beautiful tablescape at your next dinner party or brunch! Again, it's so simple adding colour to your home decor with these candles by placing them on your dining table alongside your favourite glassware, cutlery and dinner plates. You can also coordinate with colourful napkins or a bunch of fresh flowers.
Hopefully this post has given you lots of ideas on how you can brighten up your home with some candle decoration. If you would like to, share your own candle decoration with us on Instagram!