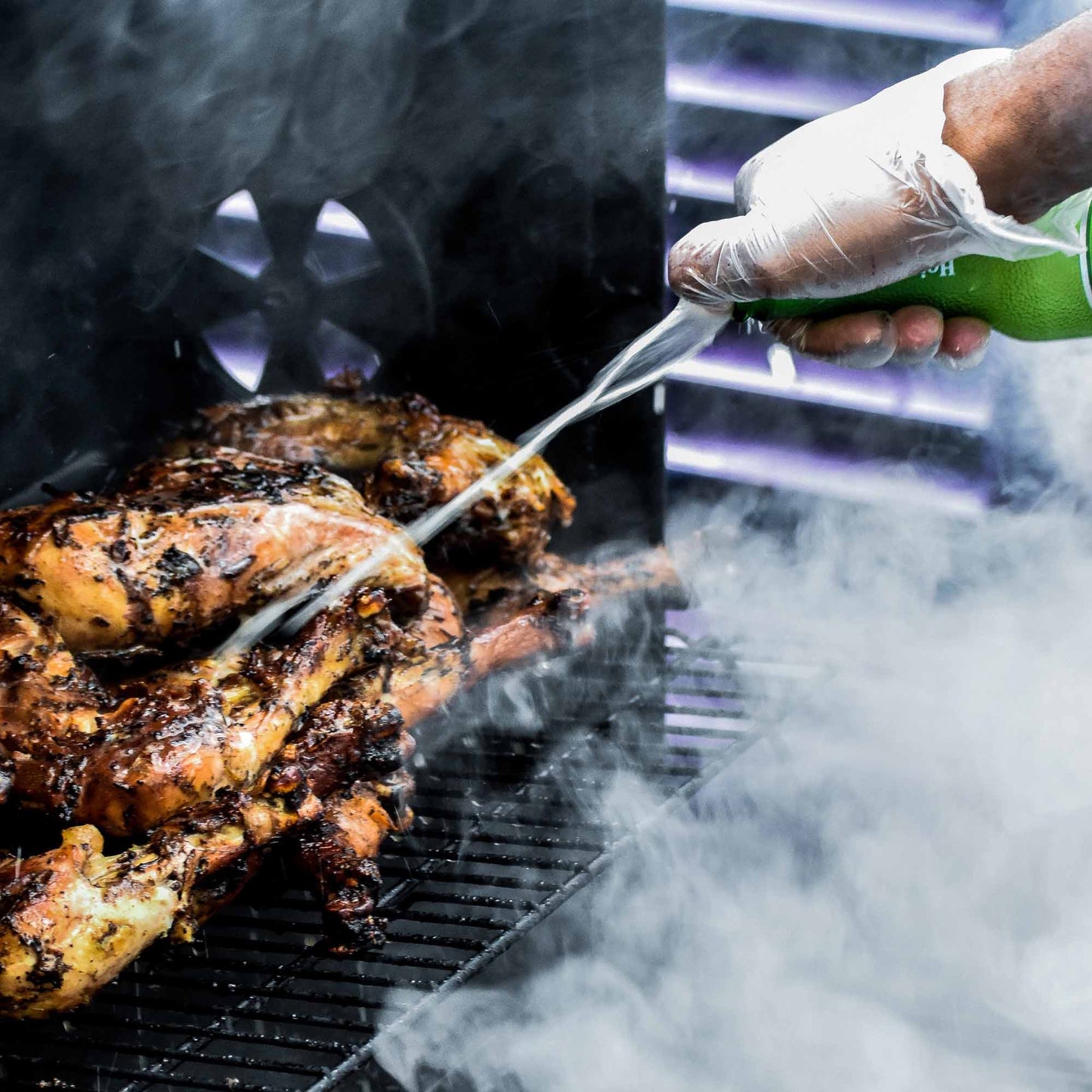 Caribbean recipes with chicken
A list of delicious Caribbean recipes with chicken...
Jerk chicken is one of my favourite ways to enjoy chicken, but there are so many other Caribbean recipes with chicken that will delight your tastebuds and leave you wanting more. This is always the case for me when my Jamaican grandmother cooks chicken, especially when she uses some of my favourite Caribbean seasonings and spices, like scotch bonnet, pimento and thyme.
When my grandmother cooks, she instinctively knows how much of everything to put in and somehow she always manages to add just the right amount to create a delicious and tasty chicken dish!
CARIBBEAN RECIPES WITH CHICKEN
Below I have listed some of my favourite Caribbean recipes with Chicken and what better way to start than with my favourite - Caribbean chicken jerk recipes.
caribbean chicken jerk recipe
Jerk chicken is packed with flavour and boasts the perfect balance of heat and sweetness. Jerk spice can include a range of ingredients like cinnamon, garlic, clove and nutmeg but two key ingredients are Jamaican pimento (also know as allspice) and scotch bonnet peppers for the spicy kick jerk chicken is known for!
Jerk chicken is native to Jamaica, but is enjoyed all over the Caribbean region. The term 'jerk' originally meant a style and technique of cooking, where you smoked and cooked food over pimento wood - giving the meat a distinctive tenderness and flavour. But now the term 'jerk' is often used to refer to a type of seasoning - a spicy mix of flavours, herbs and spices.
A simple description of how jerk chicken is made the traditional way is - uncooked chicken is rubbed with Jamaican jerk seasonings (dry and wet), marinated and then slow cooked over pimento wood (or hickory) which gives the chicken its distinctive wood smoked flavour.
This jerk technique began with the Jamaican Maroons, escaped slaves who would have also intermingled with people from the Arawak and Taíno tribes. They used the jerk method to preserve and cook meat - traditionally pork. However, now chicken and fish are more commonly used and you can also find recipes for jerk vegetables and tofu.
Since the 1960s, people from the Caribbean started cooking the meat for jerk in old oil barrel halves fired with charcoal - some people also use wood-burning ovens. Nowadays, most jerk in the Caribbean is not cooked the traditional way but is grilled over coals in a jerk pan.
Here is a recipe from Original Flava for you to try to recreate the jerk flavours at home and for those of you who aren't cooking fans but would still like to try some jerk chicken, check out Rudies Jerk Chicken wrap or Juici Jerk who are currently based at the Selfridges Food Hall.
Recipe for Jerk Chicken Marinade
You can buy a jerk chicken marinade or dry rub pre-made, like Walkerswood Traditional Jamaican Jerk Seasoning or you may prefer a dry rub this Jamaican Jerk seasoning, but I prefer home-made, so you can adjust it according to taste.
It really is quite easy to make and is just a case of combining key jerk seasoning ingredients including:
Scotch bonnets
Spring onions
Pimento seeds
Thyme
Onions
Garlic
recipe for caribbean chicken curry
Curry goat is also often a meal associated with the Caribbean and another Caribbean dish I would include in my top ten, but if you don't fancy curry goat then you can swap out the goat for a delicious Caribbean chicken curry instead!
Caribbean food is influenced by many cultures and by the people brought to the region as indentured labourers or slaves. One culture's cuisine which is prevalent in some Caribbean cooking is Indian. Indian flavours have been used in the Caribbean since the 1930s - including curry.
Check out Chef's Ricardos version of a Jamaican Curry Chicken:
The key ingredients for a Jamaican Curry Chicken:
Curry powder
Chicken
Chicken seasoning
Lemon
Scotch bonnet
Garlic
White onion
Spring onion
Coarse black pepper
caribbean recipes with chicken breast
Chicken breast can often be thought of as dry but there are ways to ensure that it doesn't become a dry dish. One way is by brining your chicken in a mixture of water and a few tablespoons of salt for about 20 to 30 minutes.
The great thing about chicken breasts is that they are easy to prepare as they are pre-prepared, cleaned, and just waiting for the right seasoning to make a delicious meal!
Just take a look at this jerk glazed honey and rum chicken breast recipe by Jody Cooking:
how to make caribbean chicken soup
Soup is the perfect meal for a cold day, and whilst the Caribbean is not usually associated with cold weather, a Caribbean chicken soup and the British winter is a match made in heaven.
Don't worry about feeling hungry after eating soup - there's no chance when you indulge in a Caribbean chicken soup because it's entirely up to you how many ingredients you include and which vegetables to use. Some filling options include potatoes, yam, green banana and pumpkin. And of course, dumplings in a Caribbean soup is a must!
If you would like to have a go at making a Caribbean chicken soup, try Caribbean's Pot recipe for the dish below:
Some ingredients you may find in a Caribbean chicken soup include:
Chicken
Scotch Bonnet
Thyme
Okra
Green banana
Sweet potatoes
Potatoes
Spring onion
Pumpkin
Yam
Watch the full video here on how to make a Caribbean chicken soup for another Caribbean recipe with chicken.
How to make dumplings for Caribbean Chicken Soup
The key ingredients for dumplings is simple, just:
Flour
Water
A little bit of salt
A little bit of sugar (optional)
What side dishes go with Caribbean recipes with chicken?
On top of the list has got to be rice and peas.
Rice and peas pairs nicely with jerk chicken, curry chicken, and honey rum chicken breasts. Likewise, you can serve your Caribbean recipes with chicken with side dishes including coleslaw, fried plantain and mac and cheese.
For me, Caribbean Chicken soup is very filling, especially if you add in dumplings, but if you still have space for more you can accompany it with a slice or two of hard dough bread.
Gifts for food lovers