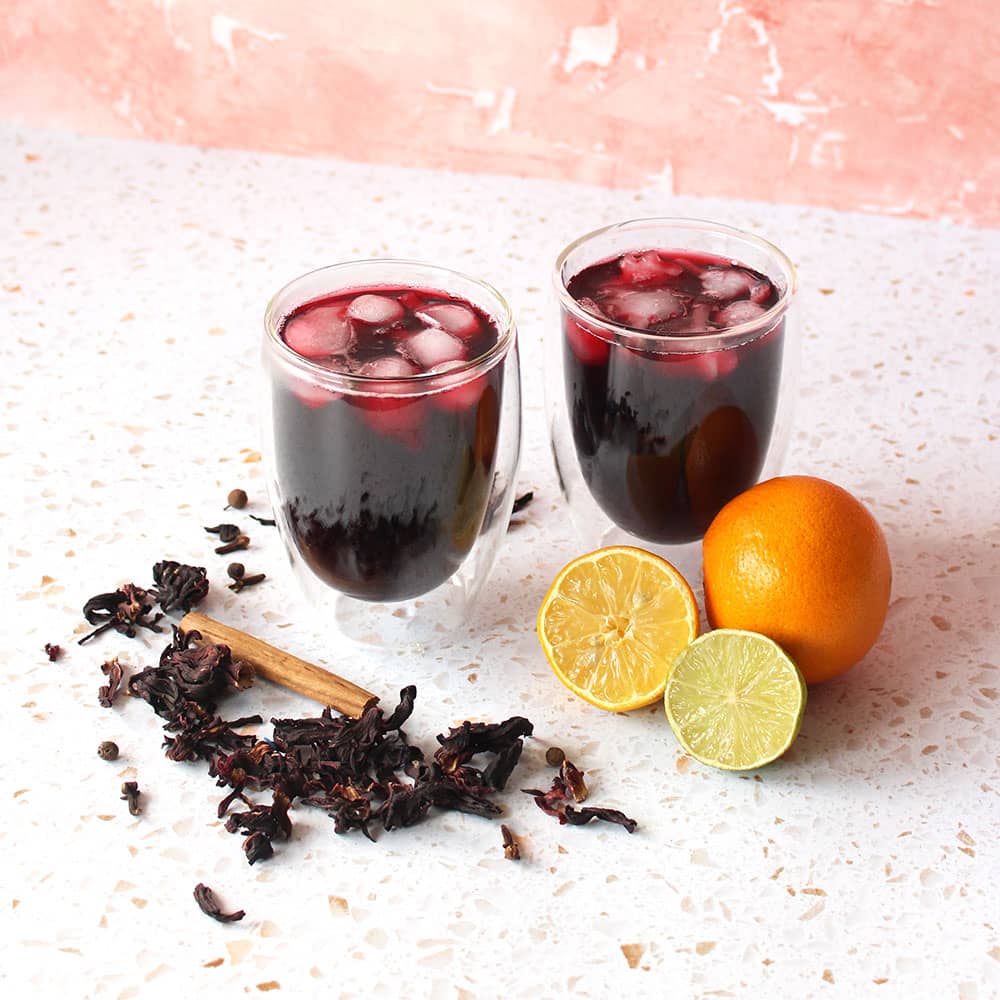 Hibiscus Tea and Jamaican Sorrel Drink Recipe
Learn more about hibiscus flowers and Jamaican sorrel drink...
As we approach the beginning of Spring here in the UK, I'm beginning to look forward to it being a little warmer, staying brighter longer, and seeing the flowers start to bloom! My designs are inspired by the Caribbean, and one of the common motifs used throughout the collection is hibiscus flowers. You can find hibiscus flowers in my embroidery from my graduate collection, and in the designs of the stationery and greeting cards in the shop. I recently revealed the Mother's Day card designs for this year, where I was really inspired by tropical plants and flowers including heliconias, bird of paradise, and of course hibiscus flowers!
Hibiscus flowers are native to warm-temperate, subtropical, and tropical regions - like the Caribbean. One species of the hibiscus flower is called roselle, and it is used to make a drink known in the Caribbean as sorrel drink which is often made during the Christmas period. I thought it might be interesting to look further into the history of the flower, and how it is used around the world as well as share a recipe for Caribbean sorrel drink!
The roselle hibiscus flower is believed to have originated in Africa. In West Africa, it's used to make a drink called bissap - which is the national drink of Senegal. Enslaved West Africans are thought to have cultivated the plant in Jamaica as late as the 1700s. Over the years, the roselle hibiscus tea spread throughout the Caribbean region and Latin America. In Latin American countries, such as Mexico, the drink is known as agua de Jamaica (Jamaica water). A drink made from the roselle hibiscus flower is also made in Australia, where it is known as rosella, India, where is it called gudhal or arhul ka phool and the Philippines where it's named gumamela. Hibiscus tea also features in American soul-food culture, where it is included in a category of 'red drinks'. It is usually served in soul-food restaurants and at African-American social events.
In the Caribbean, the drink made from the calyces (sepals) of the roselle (hibiscus sabdariffa) flower is called sorrel drink and is made in Caribbean countries including Jamaica, St. Vincent and the Grenadines, Trinidad and Tobago, Guyana, Antigua, Barbados, Belize, St. Lucia, Dominica, Grenada and St. Kitts and Nevis. Across the region, the drink is a popular beverage during the Christmas season, and in Jamaica, it is often flavoured with rum.
HOW TO MAKE HIBISCUS TEA?
Each country makes their version of hibiscus tea slightly different, but I'm going to focus on how it's made in the Caribbean. Particularly taking inspiration from the Jamaican sorrel drink - I'll be taking a few tips from my Jamaican Nanny here! Jamaican sorrel drink is made by infusing hot water with dried (or fresh) hibiscus, which is called sorrel in Jamaica, along with ginger, spices plus lime or lemon juice. It is then sweetened with some sugar, or honey for a healthier alternative, and then flavoured with rum although you can omit the rum if you want an alcohol-free version.
HIBISCUS TEA BENEFITS
Hibiscus tea is thought to be a fairly nutritional drink as it is rich in health-promoting vitamins and minerals plus powerful antioxidants. Drinking hibiscus tea has been linked with lowering blood pressure and promoting liver health, but I suggest you read more about the specific benefits of hibiscus tea by researching reputable health sources online. I think the best benefit of hibiscus tea it that it's super easy to make and tastes delicious!
WHERE TO BUY HIBISCUS (SORREL)?
In the UK, it's not that easy to get your hands on fresh hibiscus (sorrel) but you can usually find dried hibiscus flowers in your local health food stores, and you can also find it at online health shops so you can order it to be delivered straight to your home.
Hibiscus Tea and Jamaican sorrel drink recipe
This is a simple Jamaican Sorrel Drink recipe. The spices and additional ingredients are listed without measurements so that you can make your drink to your taste. If you want a more specific recipe, have a look at the links at the bottom of the post which take you to food bloggers and chefs that have delicious sorrel drink recipes!
The sorrel flower is in full bloom during the Christmas period in Jamaica, which is one of the reasons why sorrel drink is traditionally made at Christmas in Jamaica alongside some rum cake. I think it's delicious, so I enjoy having it at any time of the year! The best thing about this drink is that it is super easy to make, and you can adjust the ratio of the ingredients so that it suits your taste.
This recipe is to make 3-4 servings.
INGREDIENTS
50g dried sorrel (hibiscus)
1.5 litres water
The below ingredients are optional and/or to taste:
Pimento (allspice) berries
Fresh ginger, grated
Cloves
Ground cinnamon
Nutmeg, grated
Sugar, honey or any sweetener
Lemon or lime juice
White rum
STEPS
Step 1 - Place the sorrel and your desired spices in a large pot.
Step 2 - Pour over 1.5 litre of water, and bring to the boil. Stir everything together and leave to boil for around 5 minutes.
Step 3 - Turn off the heat, and leave the pot to cool. Stir again, and place in the fridge to steep overnight or for at least an hour.
Step 4 - Use a large strainer to strain the steeped sorrel liquid into a bowl. Add your desired sweetener, some lemon or lime juice plus some rum if desired. Stir until your sweetener is fully dissolved. Enjoy your sorrel drink poured over ice!
Tips:
Store in the fridge to prevent your sorrel drink from fermenting.
I sometimes like to enjoy my sorrel drink warm, just gently heat a cup of it and enjoy a delicious warm drink.
Sources, further reading and other recipes:
You may also like...