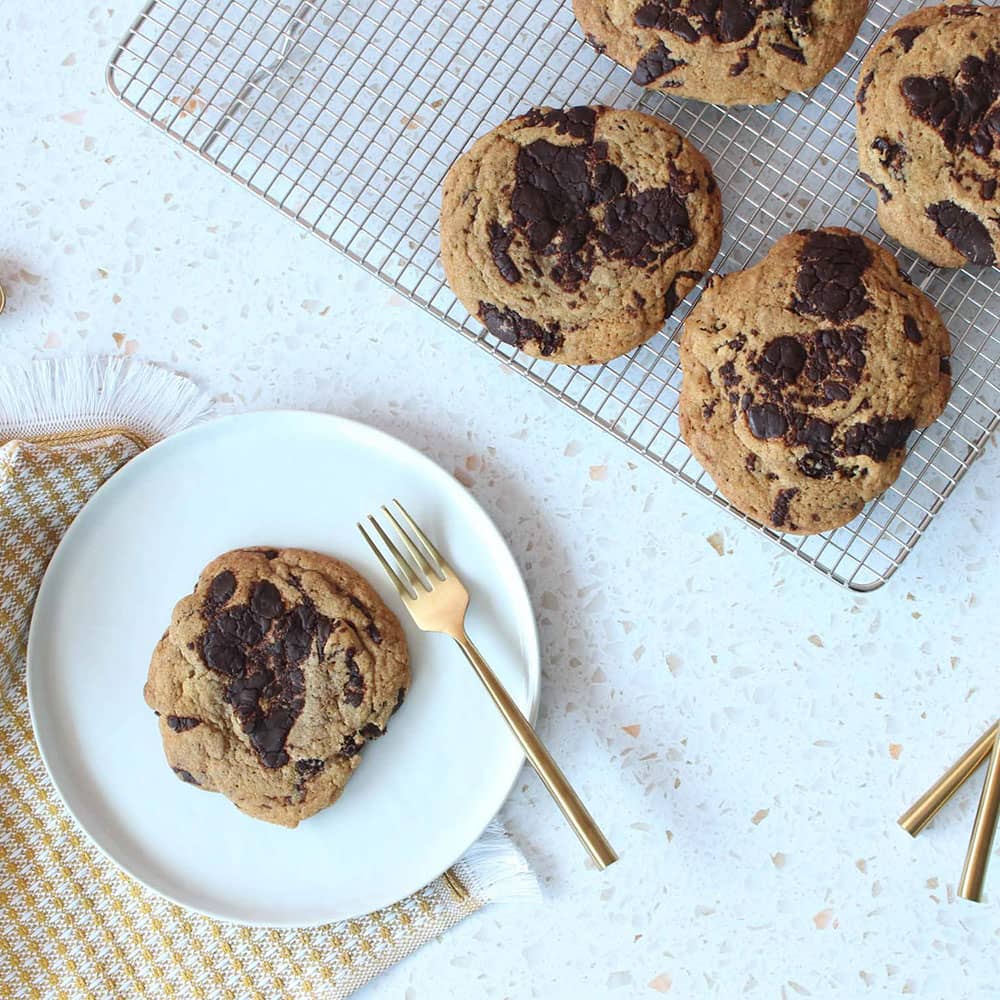 Caribbean Rum & Raisin Chocolate Chip Cookies Recipe
A soft chocolate chip cookie recipe with Caribbean rum…
An amazing soft chocolate chip cookies recipe with a Caribbean twist - rum-soaked raisins! This recipe is super easy to follow, and tastes delicious! Although rum is made all over the world, it has become synonymous with the Caribbean islands. Each island creates its own distinctive rum, dependent on its colonial past.

Rum as we know it today originated in the 17th century, as a by-product of the sugar-trade when the islands were controlled by European powers. Rum is made by fermenting and distilling molasses. Molasses is the thick, dark product obtained from refining sugar cane. Rum can also be made directly from the sugar cane juice as opposed to the molasses, but this rum tends to be more expensive. After the distilling process, the rum is enhanced in the blending process where they decide whether to age the rum in oak casks, how long they will age it for and if they want to blend it with different spices, vanilla or fruit. There are many different types of rum including spiced rum, dark rum, overproof rum, light rum and amber rum.



This Rum & Raisin Cookie recipe was inspired and adapted from the amazing website Recipe Tin Eats. Nagi has loads of delicious recipes recipes over on the website and Instagram.

Now for the Caribbean Rum & Raisin Chocolate Chip Cookies Recipe:
INGREDIENTS
265 g plain flour
0.5 tsp bicarbonate soda
1 tsp salt
175g unsalted butter cut into cubes
110g brown sugar
110g caster sugar
1 egg yolk
1 egg
2 tsp vanilla/almond extract
100g chocolate (milk or dark)
3 tbsp raisins
Rum
Steps to make Caribbean Rum & Raisin Chocolate Chip Cookies with a Caribbean twist
Step 1 - Put the raisins in a glass jar and cover them with the rum. Ideally, you'll want to leave these to soak as long as you can (they can be soaked for up to a year), but if pressed for time you can leave them to soak for a few days before you start the recipe.
Step 2 - Preheat the oven to gas mark 4. Ensure that your oven shelf is in the middle of the oven. Line two trays with baking paper.
Step 3 - Put the flour, salt and bicarbonate soda in a bowl and whisk together.
Step 4 - Put butter in a microwavable bowl then microwave the butter until almost completely melted (around 25 - 40 seconds). Then whisk the butter until it's completely melted.
Step 5 - Now add in both the brown sugar and caster sugar and whisk for 15 seconds. Then add in the egg, egg yolk and vanilla/almond extract and whisk again for another 15 seconds. Add in the dry flour mixture and stir until almost fully combined.
Step 6 - Chop up your chocolate bar(s) into small chunks. You could also use chocolate chips in you prefer and skip this step.
Step 7 - To the cookie dough, add in 3 tbsp of drained soaked raisins (try to drain off as much of the rum as possible so the mixture doesn't get to wet). Then add in 60g of your chocolate and stir to disperse chocolate and raisins evenly. Ensure that the flour is fully incorporated.
Step 8 - Allow your batter to rest for around 5 minutes, if you're in a hot environment you may want to put it in the fridge for a while. This is to firm the batter up making it easier to scoop.
Step 9 - Scoop up 1 tbsp of batter per cookie and place on baking tray leaving at least 5 cm between each cookie. Scatter on your remaining 40g of chocolate on top.
Step 10 - Bake your cookies one tray at a time for 8 minutes, then rotate the tray and bake for another 3 minutes so they cook evenly. They will be golden on the edges. Allow the cookies to cool on the tray, and then enjoy!
These rum & raisin chocolate chip cookies have a really nice subtle rum and raisin flavour. Feel free to experiment with using less chocolate and more rum-soaked raisins. 
If you make these rum and raisin cookies, be sure to snap some pictures and share with me on Instagram - I'd love to see them!
*This recipe is not suitable for children!
Sources and further reading:
Gifts for food lovers