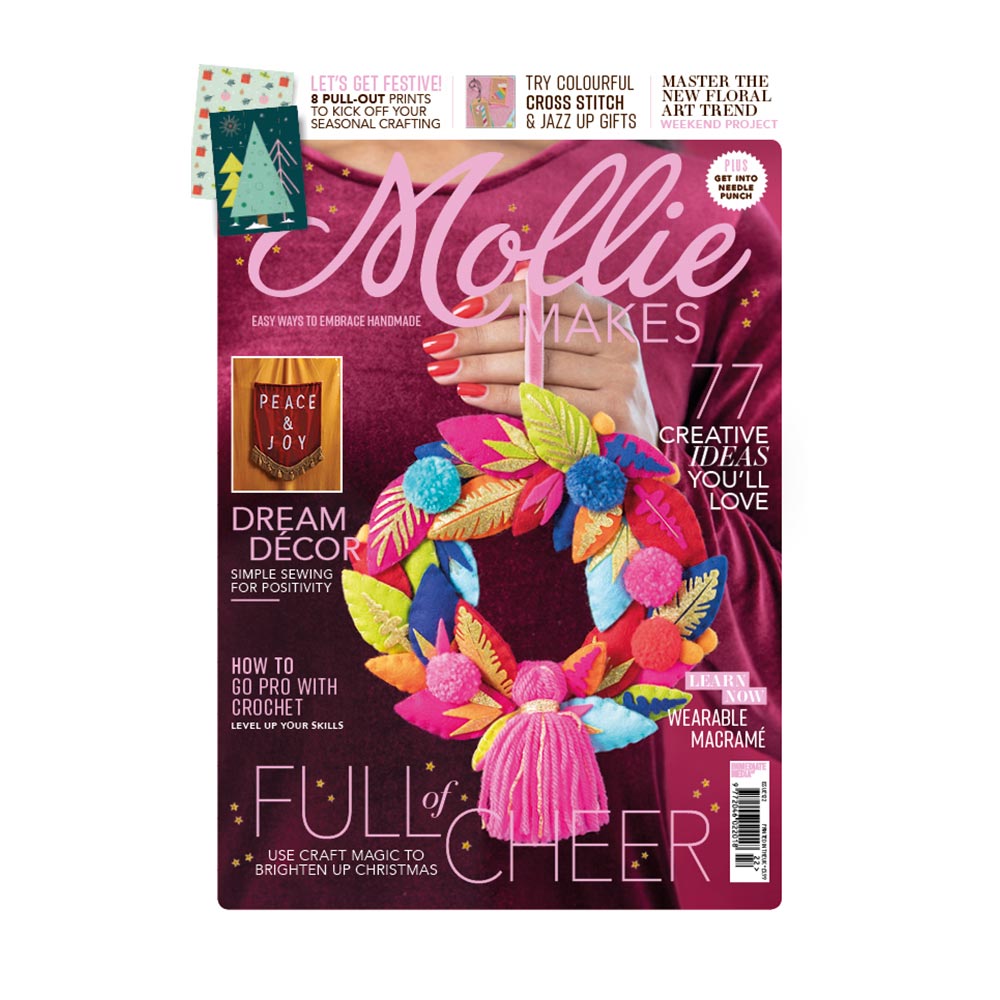 Tihara Smith Featured in Mollie Makes Magazine!
Tihara Smith was featured in an issue of Mollie Makes Magazine…
Super excited to share that Tihara Smith has been featured in issue 122 of Mollie Makes magazine! Issue 122 is officially on sale from 1st October 2020, but I have a sneak preview of what you can expect to find in the issue.
ABOUT MOLLIE MAKES MAGAZINE
Mollie Makes is a multi-craft and lifestyle magazine filled with creative inspiration. Every issue is packed with easy ways to embrace handmade, from crafting the latest interior and fashion trends to shopping independent makers and small businesses. Plus, the magazine takes you inside the homes and studios of top creatives, and share the latest news and talking points from the handmade community.
Mollie Makes lovingly curates projects and inspo across a wide range of techniques, bringing readers a modern take on traditional crafts from the most influential designers. And, every make includes step-by-step photography and tutorials, making it easy to learn new skills and personalise your home and wardrobe. Check it out and fuel your creativity today!
HOW TO SUBSCRIBE TO MOLLIE MAKES MAGAZINE
You can subscribe to Mollie Makes Magazine through Buy Subscriptions. Subscribing means that you get creative inspiration delivered straight to your front door. As well as this you get a saving on the shop price of the magazine. Mollie Makes Magazine publishes 13 issue a year, and can is delivered in the UK and worldwide.
WHERE ELSE CAN I READ MOLLIE MAKES MAGAZINE?
You can also read the digital version of the magazine which is available on both the Apple App Store and Google Play Store.
Mollie Makes Magazine is also sold in the UK in WHSmith, independent newsagents, and larger Tesco, Morrisons, Sainsbury and Waitrose stores.
TIHARA SMITH IN MOLLIE MAKES MAGAZINE
Tihara Smith, the brand, has been featured on the Mollie Loves page of Mollie Makes Magazine. I'm so excited to be able to share with you a sneak preview of the magazine below, with all the pieces that Mollie Makes are loving this issue! To see the full preview of issue 122, head over to the Mollie Makes Issuu page.