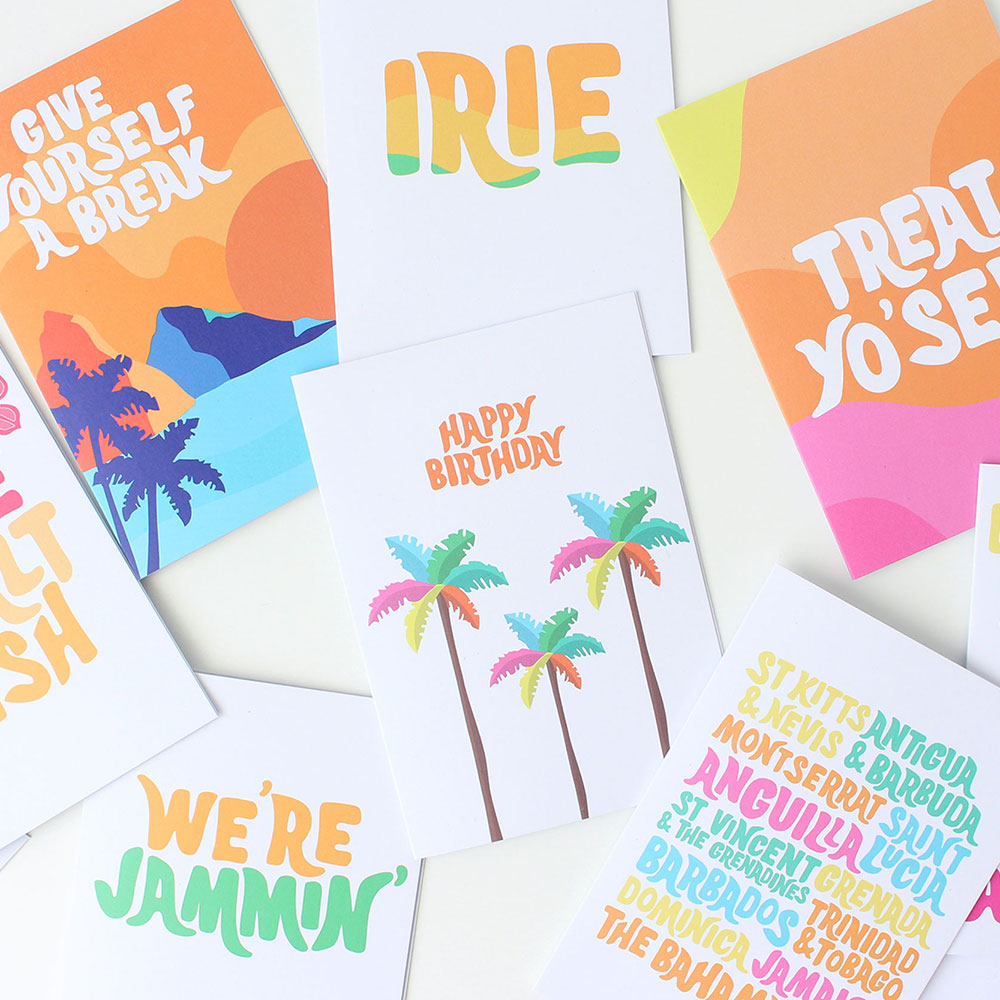 New In: Tropical Greeting Cards for Different Occasions!
Find out more about the new greeting card range…
Introducing a collection of colourful Caribbean inspired greeting cards. This initial collection of cards was designed to bring some positivity and sunshine to the greeting card world! I wanted to create a collection that not only reflected the beauty of the Caribbean, but also brought some diversity to the industry with Caribbean phrases and sayings that I grew up hearing. The aim was to create a collection of cards that allowed you to send some Caribbean sunshine in an envelope to your family and friends for numerous occasions.
INSPIRATION 
Like all the
bags
,
accessories
 and
stationery
 products in the shop, this collection was inspired by the Caribbean. I love taking inspiration from my heritage and the colours, beauty and nature of the Caribbean - from palm trees, sunsets, fruits, flowers and leaves. When sitting down to design this collection, I also took inspiration from the Caribbean phrases and sayings that I would hear growing up as well as the food and drink that the islands are known for. Another source of inspiration for this collection was Caribbean music, from Reggae and Ska to Soca and Calypso. I hoped to bring a positive and feel-good carnival vibe to the collection that can be shared with your loved ones for birthdays, holidays and 'just because'.
PRODUCTION
As a small business, I try my best to be as ethical and sustainable as possible. This doesn't mean that I get it perfect - in fact, I'm sure there are a lot of areas I can improve on and I'm constantly researching ways I can do better and looking for more sustainable production options. I try to make a conscious effort to design and produce products in the most ethical and sustainable way I know how.
For this collection of cards, I worked with a local UK printing company so all the cards are proudly printed in the UK. The cards are also printed on paper from sustainable forests. To protect the cards and the envelope, each card is individually packaged in clear compostable cellophane bags.
THE FINAL COLLECTION
The final result is a collection of twenty colourful and tropical greeting cards inspired by the Caribbean. I've put together a list of a few of my favourite cards for different occasions below.
BIRTHDAY CARDS
Send them some Caribbean vibes for their birthday with this set of tropical birthday cards.
JUST BECAUSE CARDS
There doesn't always need to be a special occasion to send someone some love. Let them know you're thinking of them and appreciate them with this set of 'just because' cards. All cards are blank inside so you can write your own handwritten message.

CARIBBEAN CARDS
Send a card inspired by and celebrating the Caribbean. From Caribbean food to music, celebrate each Caribbean island.
LOVE CARDS
Send some love their way with one of these greeting cards. Whether it's your boyfriend, husband, girlfriend, wife or even an amazing friend. Let them know you love them with a card.
UPLIFTING CARDS
Send some colour and positivity in an envelope with this range of colourful and uplifting cards. Maybe someone you know needs a little bit of inspiration or motivation to keep going - give them a handwritten boost with one of these uplifting greeting cards.