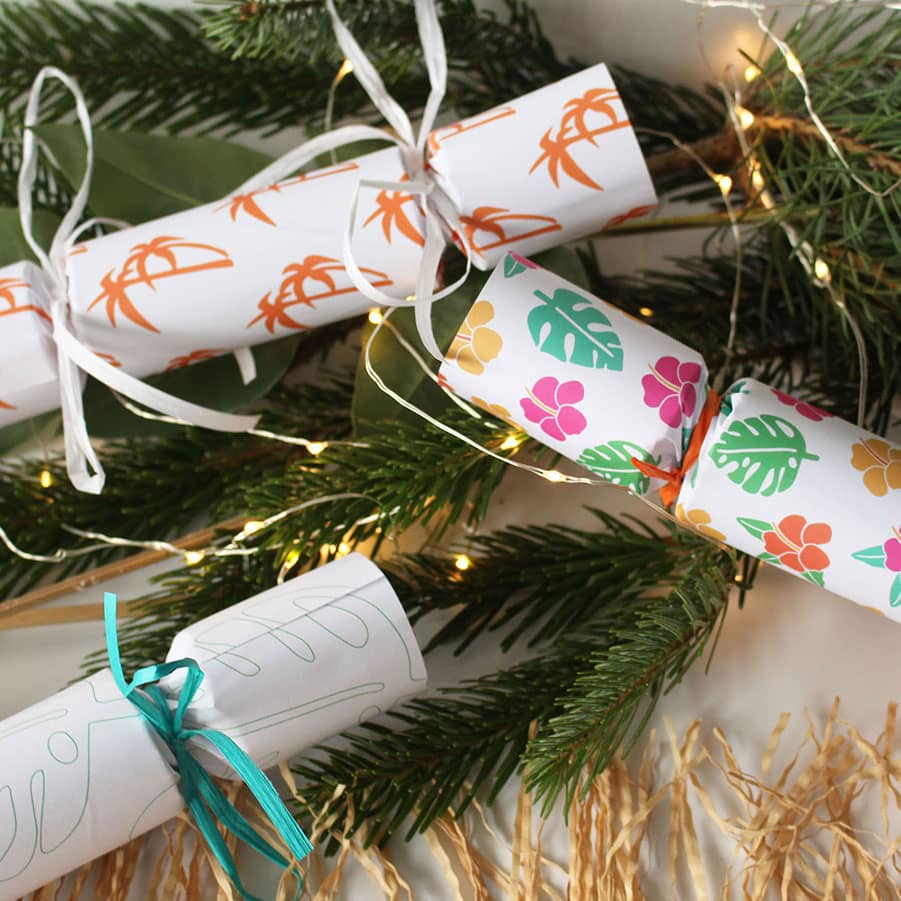 Christmas Crackers, make your own!
If you're feeling crafty, why note make your own Christmas crackers this year!
WHO INVENTED CHRISTMAS CRACKERS?
Christmas crackers are a British Christmas tradition in most households, you'll often find crackers on the Christmas dinner table, and they are usually filled with a tissue paper hat, hilariously bad joke and a small gift. The Christmas cracker was first invented over 150 years ago by a London-based confectioner Tom Smith, you can read more about the history of the Christmas cracker on the V&A website. Today, you can find all sorts of Christmas crackers - themed crackers, luxury crackers and even mini Christmas crackers.
HOW TO MAKE YOUR OWN CHRISTMAS CRACKERS
If you're feeling crafty, you can also make your own Christmas crackers! Making your own crackers is great if you have a particular decor theme that you want to stick to, or if you want to fill your crackers with your own gifts. You could also wrap small gifts as a cracker so it's even more fun for the recipient to open. You just need some wrapping paper, cardboard rolls, cracker snaps and ribbon. As I'm sticking with my tropical Christmas theme, I had to use the tropical gift wrap you can find in the shop featuring monstera leaves, palm trees and hibiscus flowers 🌺🌴The gift wrap found in my shop is made with 100gsm uncoated paper making it extra strong and fully recyclable, which is great for wrapping gifts however this makes it not quite right to make working crackers as they are hard to pull apart! So, the crackers I've made are purely decorative. But if you want to make working crackers with gifts inside, be sure to get a thinner wrapping paper that tears more easily.
YOU WILL NEED:
Wrapping paper
Cracker snaps
Cardboard tubes
Raffia ribbon or string
Double-sided tape
Scissors
Ruler
Pencil
Treats to fill your crackers
STEPS
Step 1 - If needed, cut your cardboard tubes to the desired length, I used 10cm long tubes.
Step 2 - Cut your wrapping paper in to a rectangle wide enough to fit x3 cardboard tubes (so mine was 30cm wide) and long enough for the wrapping paper to wrap around the tube plus a 1.5cm overlap (mine was 16cm long).
Step 3 - Place three cardboard tubes in a row along the width of your wrapping paper rectangle. Apply a piece of double-sided tape on one of the longer edges of your wrapping paper in front of each cardboard tube. Peel off the double-sided tape paper to reveal the adhesive then roll the wrapping paper around the tube and stick together.
Step 4 - Apply a piece of double-sided tape to each end of the cracker snap, but don't peel off the double-sided tape paper yet. Place the snap through the middle of the cardboard tubes.
Step 5 - Pull out one of the end cardboard rolls slightly, and gently twist the wrapping paper between the end roll and centre roll. Tie a piece of raffia ribbon or string over the twist in a bow. Now you can completely pull out the end roll. Remove the double-sided paper from the snap on this side and stick to the paper.
Step 6 - If you are filling your crackers with treats, now is the time to fill them! Pop your treats in the open end of the cracker. If you're just making decorative crackers like me, you can skip this step.
Step 7 - Repeat step 5 on the open end of the cracker and now you have your finished Christmas cracker! Make as many crackers that you need to decorate your dinner table.
If you make yourself a set of Christmas crackers, be sure to snap some pictures and email them to me or share on Instagram - I'd love to see them! 
SHOP CARIBBEAN INSPIRED WRAPPING PAPER