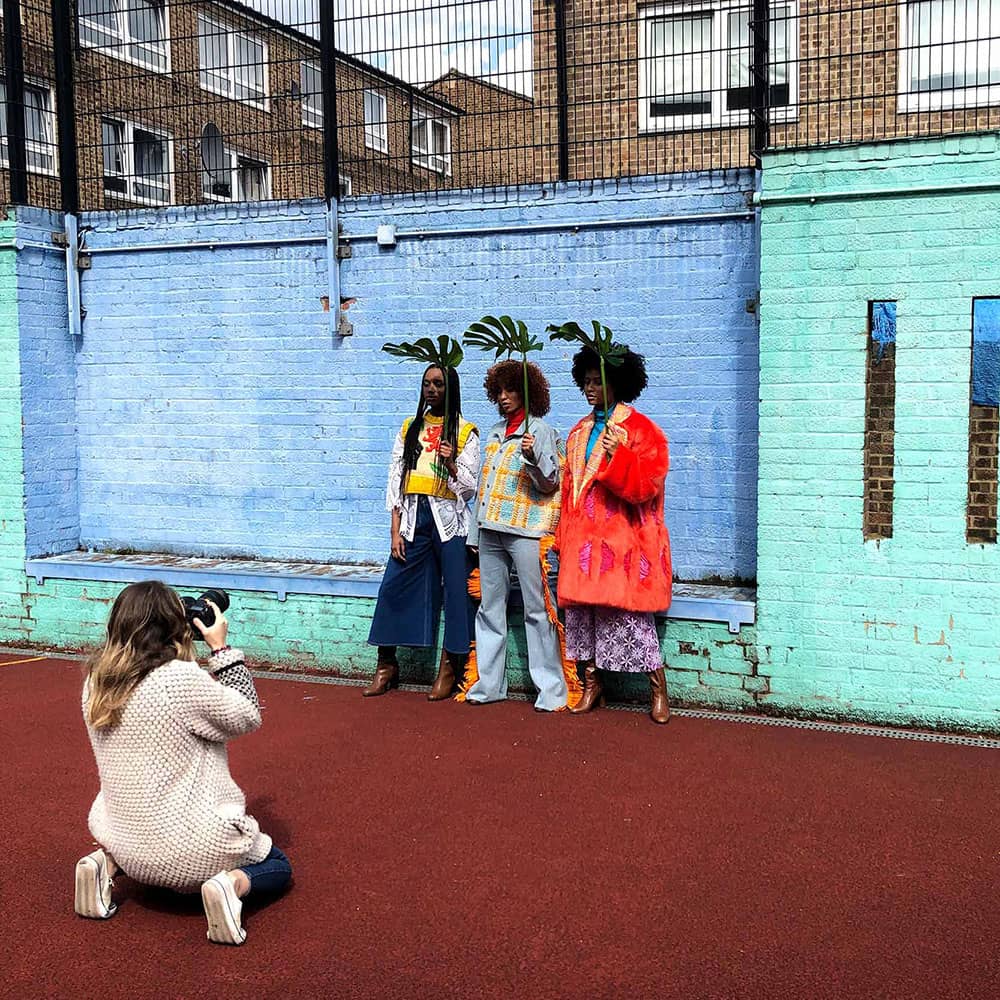 Behind the Scenes: The Windrush Collection Photoshoot
See behind the scenes of the Windrush Collection photoshoot…
In May 2019, I teamed up with Speos Photography School to photography my Windrush inspired graduate collection that was shown at Graduate Fashion Week 2018. Whilst I was in my final year of my degree I worked with Speos to photograph my pre-collection (a mini collection before the final collection) and I enjoyed working with them so much that I approached them to photography my full graduate collection.
The thing I enjoyed most about working with Speos was being able to collaborate with photography students. They had great and interesting ideas of how to present my collection that I wouldn't have thought of on my own. To shoot my Windrush Collection, I was paired with talented photography student Kayleigh Pace and we worked together to bring 'The Windrush Collection' to life!
Inspired by the vibrant colours in the collection, the garments were photographed on bright coloured backdrops in the studio, where the details of the intricate embroidery and textiles can be seen more clearly, as well as bold coloured textured backdrops found on the side streets and estates of Camberwell, London.

Also taking inspiration from photographs of the Windrush Generation by photographers such as Neil Kenlock and Al Vandenberg, the bright colours of the collection are set against a South London backdrop - one of the areas of London where much of the Windrush Generation settled upon arrival. Since the arrival of the SS Windrush in 1948, Caribbean migrants bought island sunshine to the UK with their music, style and rich culture which can still be felt in areas of South London to this day.
It was also very important to me to capture the natural beauty of the models by using only light makeup, and keeping their hair in natural hair styles - a nod to the 'Black Is Beautiful' and 'Black Panther' movement in the 1960s and 70s.
Final Images
A huge thank you to the amazing models Jada (@waveyjadey), Ruby (@rubyefia_) and Marcelle (@marcelleemendess) as well as makeup artist Rosana (@rosanasmua). An extra special thank you to the talented photographer Kayleigh (@kayleigh_pace) and Juliana at Speos Photography School for collaborating with me.