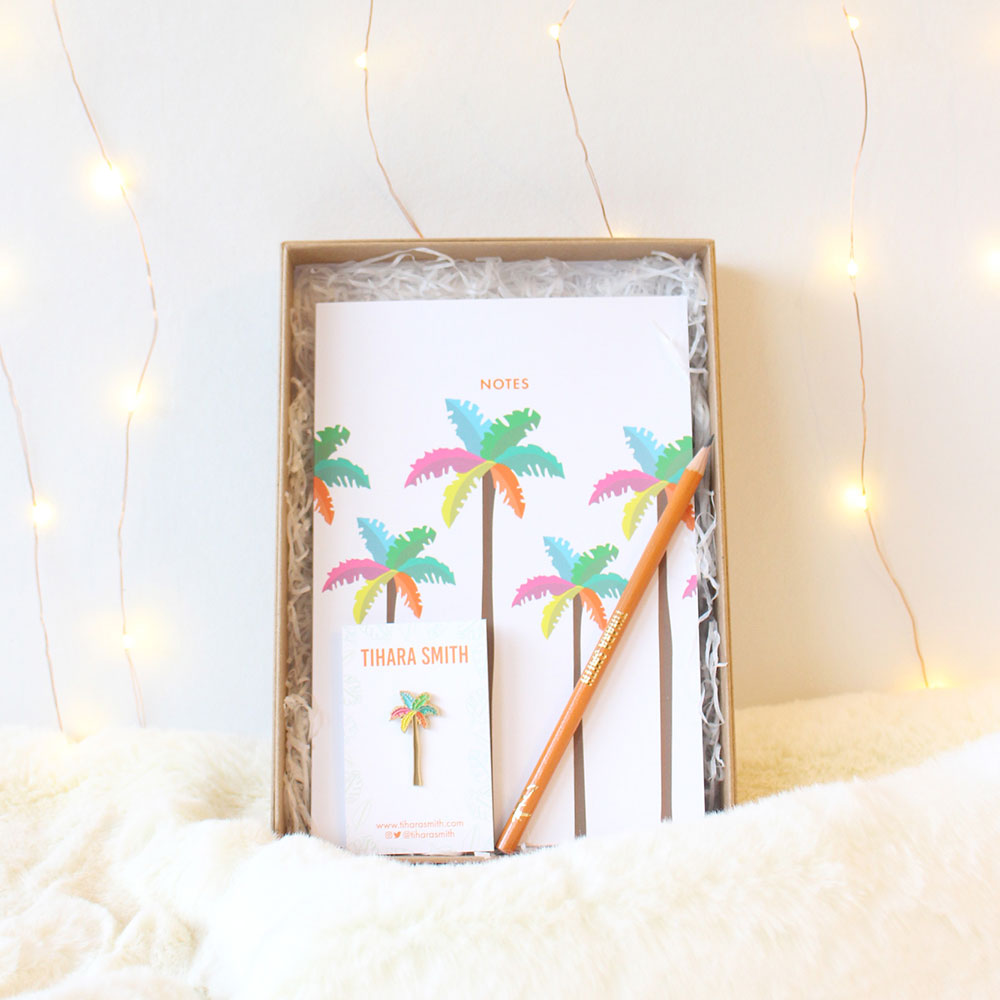 A Tropical Christmas Gift Guide ✨
Find gift ideas for your loved ones this Christmas...
Although Christmas is set to be a little different this year, we can still bring some festive joy and positivity with the perfect gift for our loved ones. As you know, I'm all about bringing the positive and tropical vibes to everyone's lives - and Christmas is no different! Christmas isn't usually associated with palm trees and hibiscus flowers, but why not?! I've put together my ultimate tropical Christmas gift guide with ideas for unique gifts so that you can start ticking people off your list this year, no matter your budget. Curated to include a range of gifts that are inspired by tropical plants, Caribbean ingredients and bright vibrant colours, find uplifting and original gifts for everyone in your life.
PERFECT STOCKING FILLER GIFTS
First things first - stocking fillers! Find the perfect small gifts to pop in their stocking to brighten their Christmas morning. From tropical enamel pins, small beauty products from Narloa and a chocolate treat from Lucocoa to snack on before Christmas lunch.
Including Island Food Print, Caribbean Islands Print, Pineapple Pin and gifts from Niche Tea, Original Flava and Hotel Chocolat.
FOR THE PERSON THAT LOVES ACCESSORIES
For the stylish and fashionable people in your life that appreciate a good accessory - whether it's a Christmas gift for mum, sister or best friend. This list includes amazing gift ideas for the person that loves to style their look with fun accessories - including tropical enamel pins to add some colour to their denim jacket or bags and beautiful handmade jewellery to embellish their everyday outfits. With tropical pins from the shop including the Palm Tree Pin, and jewellery from Kam Creates, Hattie McGill and Marcia Vidal.
 Including the Palm Tree Pin and gifts from Marcia Vidal, Kam Creates and Hattie McGill.
HANDCRAFTED, ORIGINAL & PERSONAL GIFTS
When you want to treat someone to a really original and special gift, you might decide to go for something handmade or personalised. Including hand-embroidered raffia pouches and handmade faux fur cross body bags - there is only one available at any one time of these bags making them unique and original gifts. If that's above your budget, you could go for one of the lovely Tropical Gift Sets that allow you to choose the contents and have a personalised handwritten message included! Maybe you want to go a completely different way, and fill a handmade piñata with their favourite sweet treats for Christmas? Then you definitely have to check out Pinyatay. If you want something they'll cherish forever, why not a personalised piece of jewellery from Mood Good Jewellery.
Including Tropical Gift Sets, Raffia Pouches and gifts from Mood Good Jewellery and Pinyatay.
GIFTS FOR THE HOME
Maybe you know someone that's just moved into a new place and want to give them something to brighten up their new home. If that's you, these gifts make the perfect home accessory gifts. Including vibrant tropical art prints and fashion illustration art prints as well as kitchen accessories from Village & Home and Elizabeth Rachael.
Including the Treat Yo'Self Card and featuring Tea & Me, haircare brand Flora & Curl, Tanaka Soaps and Earth to Earth Organics.
GIFTING ACCESSORIES
Finally, after you got all your amazing gifts you need gift wrap and a Christmas card to top if all off! Why go for regular green and red Christmas gift wrap when you can have colourful and tropical recyclable gift wrap. And why go for the standard Christmas cards with snow scenes and Santa when you can give tropical recycled paper Christmas cards with Christmas Palm Trees and colourful candy cane!