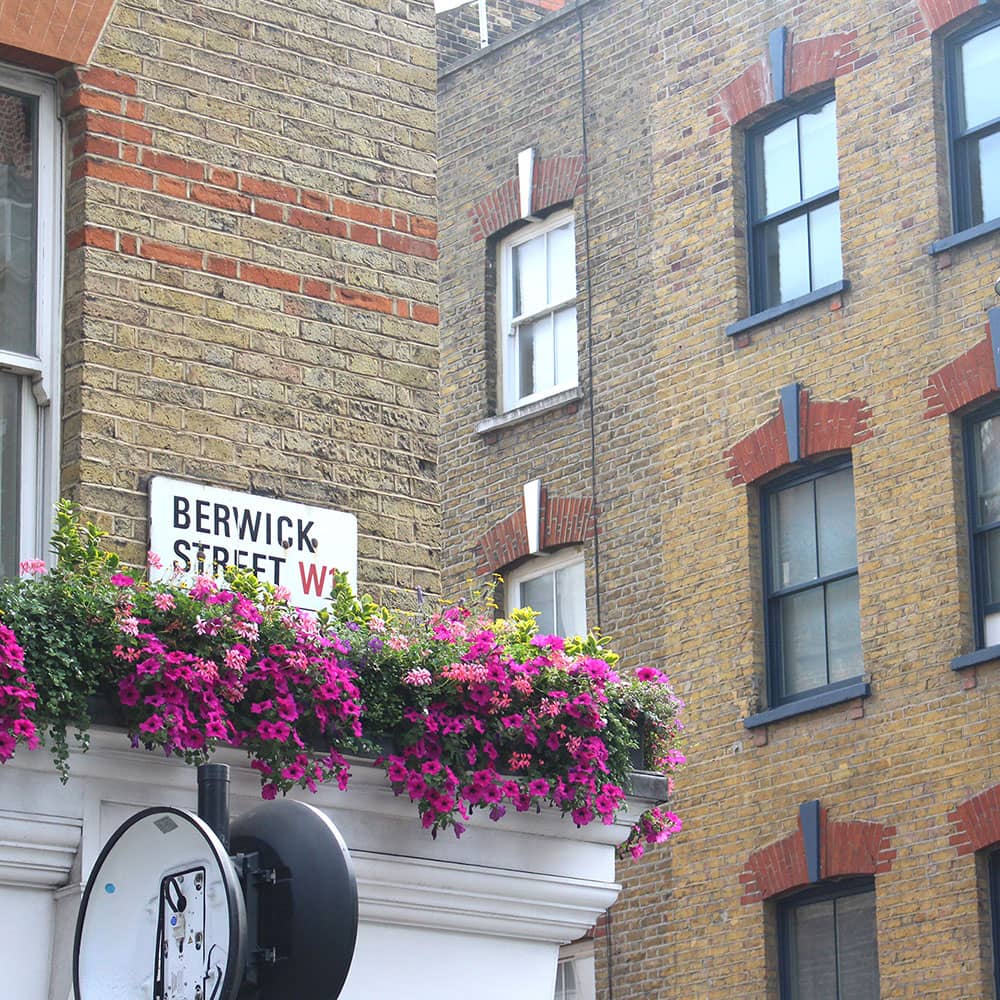 Creative Inspiration: Fabric & Haberdashery Shops in London
A list of fabric and haberdashery shops in London…
As a fashion design graduate, I discovered so many amazing fabric and haberdashery shops in London whilst searching for the perfect fabric, zip or button over my years of studying.
Since graduating, I still look out for fabric and haberdashery shops in London that continue to inspire me and help me to design and create handmade bags, wall hangings and accessories that you can find in the shop.
I've decided to list all my discoveries in one place to share them with you super creative and talented individuals! I hope that you find some new fabric and haberdashery shops in London to explore for your next project.
LIST OF FABRIC & HABERDASHERY SHOPS IN LONDON
FABRIC SHOP CENTRAL LONDON
Hidden in the side roads of Oxford Street, you'll find an assortment of fabric & haberdashery shops in London, serving London's designers, tailors and costume makers, they offer beautiful and unique fabrics and trimmings. 
You'll often find fashion students here doing in depth fabric research, finding the perfect material for their collections. 
Leaning towards the pricier side, these shops may just serve as some great inspiration, but if you're looking for a collection of high-quality and curated fabrics and trimmings, these are the shops you'll want to explore.
Borovick Fabrics 
16 Berwick St, London W1F 0HP
borovickfabrics.com
A friendly fabric store in Soho. The staff at Borovick Fabrics are very friendly and always willing to help. They have a great range of fabrics from bridal to theatrical. Students can enjoy a 10% student discount year round with a valid student ID and they also provide fabric swataches. If you can't visit the store, Borovick Fabrics offers a worldwide mail order service.
Macculloch & Wallis
25-26 Poland St, London W1F 8QN
Just off Oxford Street, Macculloch & Wallis are one of the great fabric and haberdashery shops in London. Stocked over two floors with fabrics, trimmings, threads, buttons and more. You can also order from their website, they ship worldwide!
Misan Fabrics 
4 Berwick Street, London, W1F 0DR
misan.co.uk
Misan has a variety of fabric and haberdashery shops in London. Misan Fabrics is describe as 'the most opulent' of their stores on the website. It specialises in fine high quality fabrics including jacquards, laces, silks, cashmeres, wools for tailoring, coating and tweeds. 
Misan Textiles 
52 Berwick Street, London W1F 8SL
misan.co.uk
Part of the Misan family with a selection of technical fabrics, jerseys, cottons and leather. A great stop to find interesting and innovative fabrics.
Fan New Trimmings
47 Berwick St, London W1F 8SQ
Stocked full of a range of haberdashery and trimmings including beads, sequins, feathers, zips and more. 
Liberty London
Regent Street, London W1B 5AH
Liberty stocks their iconic luxury printed fabrics, along with a selection of trimmings and haberdashery. You can also shop their range online.
VV Rouleaux 
102 Marylebone Lane, London W1U 2QD
VV Rouleaux is a shop in London's Marylebone stocked with luxury ribbons, tassels, feathers, cords, and other trimmings in over 100 colours.
FABRIC SHOP WEST LONDON
West London's Shepherd's Bush is home to at least a dozen of fabric and haberdashery shops in London, mostly on Goldhawk Road. The Goldhawk Road Fabric Shops are just a short walk away from Shepherd's Bush Station and Westfield London. Spend a morning browsing and exploring hundreds of fabrics!
Goldhawk Road Fabric Shops
Goldhawk Road, London W12

I didn't include a full list of all the shops on Goldhawk Road because there are just so many! You can find just about any fabric you are looking for on this road in Shepherd's Bush. It does take a little bit more work going through all the fabrics, but you can absolutely find some great gems here. I recommend spending a morning having a look at each of the shops on this road!
Shepherd's Bush Market
Shepherd's Bush Market, London W12 8DF
Mixed in between the fruit, veg and grocery stalls along Shepherd's Bush Market, you can find some fabric and haberdashery stalls with very affordable fabrics and trimmings. A short walk from Goldhawk Road, it's worth a little look to see if you can find the perfect addition to your creative project.
Misan West 
21-23 Goldhawk Road, London W12 8QQ
misan.co.uk
The largest shop of the Misan family, Misan West has a great selection of high-quality fabrics that you can find in their Central London stores at their clearance prices. It is also known as the outlet store as it stocks their quality fabrics at a discounted price in their clearance area.
FABRIC SHOP EAST LONDON
Whilst studying in East London for a short time, I found a few great fabric and haberdashery shops in London's East End. The famous Brick Lane is home to a few fabrics shops, so it's worth a walk down there to have a look at what they have to offer.
Fabians Haberdashery Trimmings 
Unit 110 Railway Arches, Cannon Street Road, London E1 2LY
fabianstrimmings.co.uk
Fabians Trimmings is a haberdashery and trimming wholesalers hidden in the arches near to Shadwell station. They have a selection of haberdashery products including zips, threads and ribbons. You can also shop with them on their website, and they have a clearance shop on Etsy.
Crescent Trading 
Address: 41 Quaker St, London E1 6SN
After a short walk from Shoreditch High Street Station and Brick Lane, you'll find Crescent Trading, the last cloth warehouse in Spitalfields.  Sadly, one of the knowledgable partners Philip Pittack passed away at the the heigh of the pandemic in 2020. But his partner Martin White re-opened the store in August 2020 with his seventy-five years worth of textile knowledge. Well worth a visit to support a great business in London.
William Gee 
520-522 Kingsland Rd, London E8 4AH
williamgee.co.uk
A short walk from Dalston Junction station, William Gee is a family run haberdashery store in East London. They sell a huge range of haberdashery products, as well as dressmaking equipment and storage. You can also shop with them online.
Dalston Mill Fabrics
69-73 Ridley Rd, London E8 2NP
Dalston Mill Fabrics have been selling fabrics for over 30 years. They have a wide range of fabrics and haberdashery to explore. You can find some of their products on the website, to see the full range take a visit their London store.
FABRIC SHOP SOUTH LONDON
Having grown up in South London, and now still based here, I've found a good few local fabric and haberdashery shops in London. There are also many markets in South London where you can find a selection of fabrics stalls and shops like East Street Market, Deptford Market, Peckham Market and Brixton Market to name a few!
Really Maria
15 Lordship Lane, East Dulwich, London, SE22 8EW
Really Maria is a vibrant craft shop based in East Dulwich - you can also shop with them online. Really Maria stocks a wide selection of fabrics, wools, sewing kits and anything else you need for your next crafting project!
Sewing & Craft Superstore
292-312 Balham High Road, London SW17 7AA
craftysewer.com
A lovely sewing and craft shop only a few minutes walk away from Tooting Bec station. They have a great range of fabrics and haberdashery products, as well as craft supplies. They also sell sewing and embroidery machines as well as sewing patterns.
Fabrics Galore
52-54 Lavender Hill, London SW11 5RH
fabricsgalore.co.uk
A friendly fabric shop in Battersea, a short walk or bus ride from Clapham Junction and Clapham Common stations. They have a great range of high-quality fabrics and lovely printed fabrics. You can also shop with them online!
Shaukat Fabrics
170-172 Old Brompton Road, London SW5 0BA
Based in South West London, Shaukat Fabrics offers their bespoke luxury Shaukat Fabric collection, along with luxury fabric collections sourced from local and international suppliers.
FABRIC SHOP NORTH LONDON
Whilst I haven't had as much opportunity to explore North London for fabric and haberdashery, I have found a couple of great places that I've listed below!
Joel & Son Fabrics
73-87 Church Street, London NW8 8EU
joelandsonfabrics.com
A luxury fabric shop with over 60 years trading history! Joel and Son Fabric stock a wide range of beautiful fabrics and trimmings on their website, and deliver worldwide. An interesting fact about this fabric store is that they also hold a Royal Warrant from H.M.Queen Elizabeth!
London Trimmings  
41B Antill Rd, Tottenham, London N15 4AS
londontrimmings.co.uk
A huge store filled with a range of trimmings and haberdashery products including ribbons, metal hardware, threads and so much more. You can browse some of their range on their website.
ANK Camden
Address: 10 Pratt Mews, London NW1 0AD
Website: ankcamden.com
A short walk away from Camden Town Station, you'll find ANK Camden. Filled with an amazing range of metal hardware, fittings and tools for clothing and accessories. You can also shop some of their range on their website. Closed until Spring 2022. Check their website for the re-opening date.
Cloth House 
130 Royal College Street, London, NW1 0TA
clothhouse.com
Previously located in London's Soho, Cloth House made the move to an online fabric shop in 2020. You can now shop all their beautiful fabrics online. Their Camden studio is available to visit by appointment only, except on the first Saturday of every month. Cloth House specialises in natural cottons, linens, Japanese fabric and vintage trimmings. They offer fabric samples on their website.
The Berwick Street Cloth Shop 
Unit G8, Building A, Wembley Commercial Centre, East Lane, Wembley HA9 7UR
theberwickstreetclothshop.com
Previously located in London's Soho, along with the sister stores Broadwick Silks and The Silk Society, you can now shop all of Berwick Street Cloth Shop's collection from their Wembley Warehouse (visits are by appointment only). Find a vast range of luxury fabrics including silks, cottons, wools and more. You can also buy fabric from their online store.
Ray Stitch
66 Essex Rd, London N1 8LR
Ray Stitch describes themselves as a one-stop sewing shop. They stock a range of fabrics, haberdashery products, gifts, books and sewing patterns. 
If you know of any more fabric and haberdashery shops in London that should be on this list, please let me know.
Products you may like
Keep your next creative project organised with one of our tropical notepads. Available as an A4 weekly planner, daily planner or an A5 to-do list.
This post was last updated March 2022. If you find that any information has changed or needs updating, please get in touch. For more information about any of the businesses listed, please contact them directly.